WELCOME TO Chaos Thoery
Nature, life, it's all controlled by chaos. Humans simply create the illusion of control. Outside forces pull and push us every day. Yet, what happens if chaos is being pushed by a factor we don't know about? What happens if it changes the timeline? What happens if it completely changes you?
01/14
New Skin! New features. New fun!
01/13 We are switching over to HTTPS. This is security reasons. It will make things safer for browsing on your phone and in public places
what makes a hero?
, supergirl's plotter
Charlotte GMT+1 She/Her PM Offline
30 POINTS EARNED
5 POSTS MADE
KARA KENT
22, VIGILANTE, BLOGGER, CONFLICTED.
About
Kara is the older (but younger) cousin of Kal-El. She left Krypton shortly after her cousin, but was sent off-course and stuck in suspended animation, and arrived decades after Kal arrived. When she emerged, her baby cousin was fully grown and had become Earth's hero. After coming to terms with everything, she decided to become a hero herself. For a couple of years, she did well. However, after being taunted too much by an average bank robber, she let her emotions (which had always been a problem) get the best of her, and she accidentally unleashed a full blast of heat vision on him and him. Since then, she has hidden away from the superhero life, out of fear, anger and guilt. However, recently, she has started to fight crime on a small basis, working more as a vigilante than the hero that she should be.
Friends
Kara is one the friendliest people you could hope to meet. Despite everything that has gone on her life, she strives to keep an upbeat attitude and is always willing to help out however she can. It's only her closest friends that are allowed into how she truly feels. Behind the smiles and cheerfulness, she still feels the grief of the life she took and the destruction of Krypton. Even then, she tries to appear to avoid distracting others with her problems. Her main friends will most likely consist of heroes she has met since arriving on Earth, even those who dance in the grey area between good and bad.
Enemies
Arriving on Earth, she automatically decided that she was an enemy of anyone who wished harm on her cousin, which no doubt gave her an extensive list from the get-go. Since then her work as a hero in her own right has inevitably given her a list of her own enemies. She doesn't like anyone who will go out of their way to harm or exploit innocent people.
Lovers
On Krypton, Kara did have a few crushes/boyfriends, but it didn't lead to much – plus, they're all dead now. During her years on Earth, it's most likely she's been in at least a couple of relationships. I'm completely open to this, whether it's a previous crush/boyfriend or someone who she is currently interested in.
BLUE -4gmt She/Her Pm Offline Depressed
170 POINTS EARNED
35 POSTS MADE
BLUE & CHARLOTTE
---
I'm so happy to get Supergirl!
Alright, let's get down to business babe, we got lots of fun to be had.
Dinah Lance and Kara Kent She probably wouldn't be happy with the more roguish styling of Supergirl but as a woman that has boot fill, she understands what it means and what it is to try to step out of hem and be seen as your own person. Dinah is still the girl next door. She'll talk to Kara and try to understand her. She may even try to wing it and softly lead towards Birds of Prey.
Faith Hastings and Kara Kent Kara always had some strange effect on her. For whatever reason, she just gets along with her. While Dinah is the angel, Faith is the devil on this site. She'll lead Kara a stray with her more devil may care attitude. Leading maybe into trouble here and there and maybe further from heroes. They could meet at the museum at first. Kara could be drawing the dinosaurs when she meets or is drawing Faith working in paleo lab. OF course, we can start a friendship with friendly jabs and art appreciation.
Karen Beecher and Kara Kent They would more than likely know each other if Kara had even the slightest stint with the Titans. Karen is Bumble Bee, she kind hearted woman that lost everything and is spiraling towards rock bottom. There have been signs of hope but nothing major at the moment. Seeing Kara fall from view just might make her feel worse. She's already going to be afraid of what Roy has become, Kara just might be a nail in wood pushing her decay a little faster. They could meet up for coffee or I have a Thanksgiving opener with her, Where Supergirl can hear the call for help.
Richard Grayson and Kara Kent These two have a history. How much would you like to keep? Right now, Dick is shamelessly flirting with Kit and drowning in his own pain of losing sight of what's right. Kara can always find a way on Dick's radar. A meeting on rooftops is probably on the books?
⊕ thanks
Charlotte GMT+1 She/Her PM Offline
30 POINTS EARNED
5 POSTS MADE
Wooohooo! I'm looking forward to all the threads!

Kara & Dinah

I'm sure Kara would respect the hell out of Dinah. She's a girl who can handle herself and protects the people she cares about, and although she does have her canary cry, she doesn't rely on it. I think Dinah might be one of the few people who Kara would talk to about why she doesn't want to be a hero anymore, and about the fear she has of losing control again.

Kara & Faith

This sounds great! Kara probably needs to spend time with people who are far from the usual "typical hero" types. Maybe her time with Faith could help her learn how to enjoy her powers again like she used to, and not think of them as some burden that is just a timebomb waiting to go off. The museum sounds like the perfect place for them to meet! It would probably be the kind of place that Kara enjoys hanging out because of all the inspiration it gives to her art.

Kara & Karen

I think Kara probably would have spent some time as a member of the Titans, so they probably will know each other! She probably won't even be aware of the effect that she has on Karen by not being the symbol of hope that she used to be. The Thanksgiving thread sounds perfect! I'll track it down and reply to that.

Kara & Dick

They've got a lot in common, living in the shadows of two of the most respected/feared heroes on the planet. As for history...hmmm... I'm thinking that maybe they shared a few kisses over the years? Maybe it could have led to a more, but neither of them was ever interested in anything serious? I'm pretty open as far as their history goes. I think they'd have a pretty flirty friendship, and Dick is someone who she knows she can hang out with and have a good time. Whenever their conversations get serious, I can see her always trying to talk him out of going after Slade. Since she has taken a life already, Kara knows how it feels and doesn't want Dick to have to feel the same way she has felt since it happened. I'll add a starter for these two to my list as well!
Blue -4gmt She/Her Pm Offline Sneezy
200 POINTS EARNED
31 POSTS MADE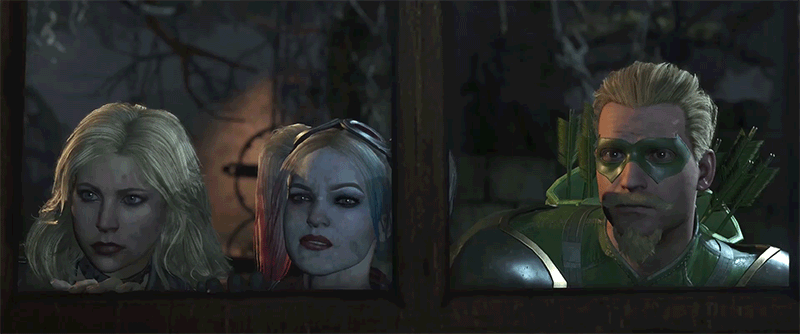 Kept GMT - 5 she/her Shortiejinete#2113 Offline -
5 POINTS EARNED
0 POSTS MADE
Clark and Kara
These two need to have a thread. He needs someone to annoy
1 User(s) are reading this topic (1 Guests and 0 Anonymous Users)
0 Members:
INCHARACTER CHAT

Welcome to our in character chatbox. We would invite all who have been accepted to join in on our crazy fun. We have ground rules we want to go over.

1. This is for fun.
2. We allow you brain storm ideas here.
3. ICC is non-canon to the site
4. Limit OOC Chatter.
5. We do not account ICC as on board activity. It will not keep within activity rules.
6. We invite you join, if you are active on the main board.
7. All site rules apply in the ICC.